You know how to put yourself out there but you keep scaring women off.
If women gave you a chance you could make a great boyfriend but you never make it that far because you seem desperate.
Here's my advice for men who come on too strong.
Stop Scaring Women Off With These Five Tips
There are plenty of reasons that dates go bad but if you're worried that you're the problem then you probably are. Keep these five tips in mind to make sure it doesn't happen again.
Don't Take Things Too Seriously
When people say nice guys finish last, they're missing the point. What they really mean is that dating has changed and some men aren't keeping up.
Showing up for an old school dinner date with a bouquet and sweeping her off her feet may have been the bare minimum in the past but now it's way, way over the top. This kind of pomp and circumstance puts a lot of pressure on a woman and could easily turn her off instantly.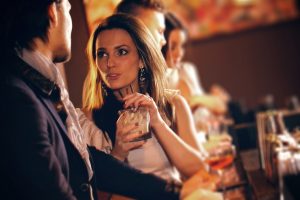 Instead, your focus should be on showing her you know how to relax and go with the flow.
A good rule of thumb is no gifts, surprises, or overly affectionate compliments in the first few weeks of spending time together. Save those grand romantic gestures until you're seeing each other more seriously and then she'll be thrilled.
You'll also definitely want to avoid "thirsty comments" on social media (ie. compliments left on a girl's social media photos or posts).
Quit While You're Ahead
Attracting a woman means creating an air of mystery. You need to recognize when you're connecting with a woman and leave her wanting more.
So many guys will get to that point and take a moment of connection as an opportunity to forge ahead right away, asking women out on the spot or overstaying their welcome. This is a sure sign of desperation for any woman.
Instead, leave things on a high note. Make her laugh and then bid her farewell. You'll find that the next time you see her, she's going to be much more receptive.
Find Middle Ground
Let's talk about a familiar pattern. Men who scare women off tend to overcorrect and withdraw romantically in their next encounter.
The next time around they keep to themselves and miss out on opportunities by being too aloof.
Then they get desperate, do something excessive and scare off the next woman they run into.
The good news is once you understand this cycle, you can break it. You've shown you're capable of being the hopeless romantic and the standoffish bad boy. All you need to do is find a middle ground between the two and you'll be more attractive to women instantly.
Flirt
This is the real key skill that's lacking in most men–you need to learn how to flirt without being creepy.
The popularity of dating apps is directly related to men's inability to safely flirt in regular life. Men with this problem don't know how to read the signals. They either take flirting too far or avoid it altogether.
Flirting is difficult but if you can figure it out then you'll have a leg up on most men. Keep the winks and friendly hugs to yourself and instead opt for a more indirect approach. Use humour and gentle teasing to get her attention and interest. You want her to feel charmed, not singled out.
Conquer Your Nerves
I'm going to let you in on a little secret: most people have no idea what they're doing in social situations.
Those people that seem calm, confident and in control have simply discovered ways to hide their nerves. Whether it's humour, self deprecation or fidgeting there are plenty of ways to take that nervous energy and use it somewhere else.
Find your own coping mechanism and use it to take the edge off when you're interacting with a potential date.