Women have this reputation that suggests they are only interested in a man for his looks and/or wealth.
This assumption could not be more wrong.
Women are so much more interested in men who have more depth than the depths of their pores. So to clear up this confusion, here are 4 personality traits that women find extremely attractive that have nothing to do with looks, money or prestige:
1.     Good Sense of Humor
2.     Kindness
3.     Intelligence
4.     Excellent Listener
1.     Good Sense of Humor:
If you can make a woman laugh, you can pretty much make her do or feel anything.
Humor's best quality is to make light of any situation, no matter how uncomfortable and/or terrible and will make you instantly attractive.
I was on a date with a man, who met me at a bowling alley, and he said, "Wow! You look great. I was going to wear the exact same thing. Thank God that I didn't. I wouldn't want you to feel inferior to my ability to pull off those heels better than you." This kind of flirty funny humor relieves any first date jitters and starts the date off on the right foot.
Knowing that women are attracted to a man with a good sense of humor is all good and great, but I bet some of you are thinking, "Well, how do you get a good sense of humor??" Here are a couple of ways to improve your sense of humor
Stop taking yourself so seriously.
Watch standup specials, and pay attention to how comedians talk about mundane things in a comical or obscure way.
Spend time with funny people.
2.     Kindness:
Remember that saying, "Kill them with kindness"? That saying somewhat applies to women.
I know that some men think that women only like jerks/the bad boy, and while that may attract them for a fraction of a second, what keeps women around and makes women fall in love with a man is his kindness. There is never a good excuse to be rude to a woman. Being kind and gracious is an overlooked quality that women respond really well to in a man. If she displays kindness in return, this is how you know she's long-term-relationship material.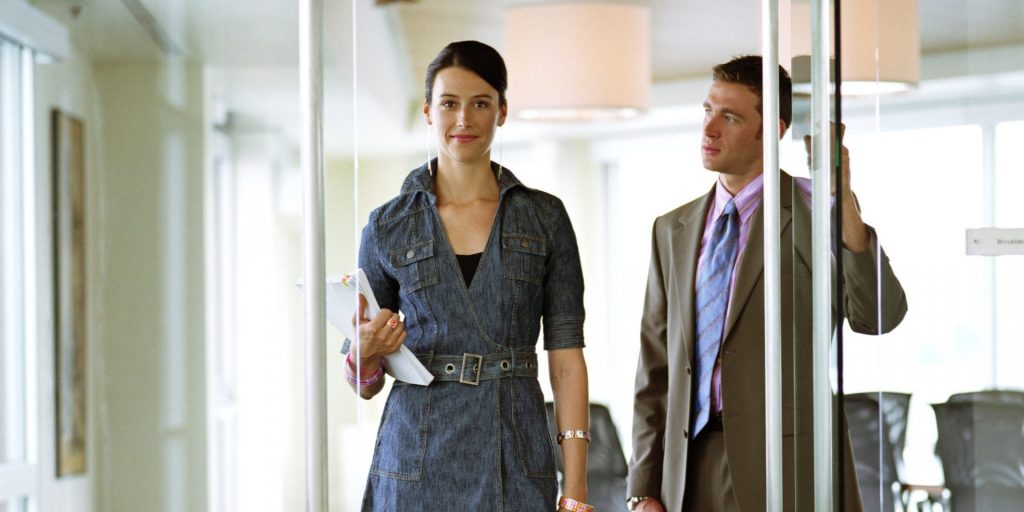 Being kind presents itself through simple acts:
Opening doors for people, smiling—even at strangers.
Helping someone carry their grocery bags to their car.
Small gestures of kindness let a woman know that you have a heart and care about other people, and this is an insanely attractive quality.
3.     Intelligence:
An intelligent man is a man with an opinion—someone who isn't afraid to challenge a woman. Women don't want to be with someone who is agreeable on all fronts. A woman wants to be challenged and have her mind opened to new things.
Relationships are a really excellent way to learn new ways of thinking and being in the world.
Generally, when two individuals come together, they each have a certain set of skills. These skills are things that you can share with each other and teach each other new things. Intelligence makes you adaptable to situations, and it, ultimately, makes you an interesting person to talk to and be around.
Ways to improve intelligence:
 Read, read, and read some more.
Listen to podcasts.
Talk to intelligent people.
Take classes.
Being smart, in a humble way, is sexy. A guy who walks into the room boasting about his intelligence is a real turn off.
And on the plus side, it's really sexy when a man can teach you how to do something. Think about that classic movie scene when a guy helps a girl play pool! SO MUCH TOUCHING and SO MUCH SEXUAL-TENSION-BUILDING.
4.     Excellent Listening Skills:
There is nothing more discouraging in dating than being ignored.
When a woman is talking to a man, she wants to be heard. I know some women can be pretty long winded, but if you're not paying attention to your girl, and she asks you a question only to have you answer, "huh?", that doesn't make her feel valued at all.
In the dating game, being ignored like that is very discouraging. Once in a while, obviously, this is normal, but if this is a common occurrence, then you have a problem.
When you don't pay attention to what your girl says, she does not feel important, and that certainly doesn't make her want to jump your bones.
Also, when a woman tells you things about her life, like her best friend's name, or her parent's names, it's important to try to remember these things. Try to remember the things that are important to her.
Does she have a favorite band that periodically comes through your town? Try to keep an eye out for the next time that they're in your town and grab the two of you tickets. When a man listens to a woman and her interests, she feels insanely appreciated, cherished and valued!
All of these things that you are making her feel make her even more attracted to you. And a woman's desire to be with you increases immensely if she feels cherished.
So remember that you don't have to look like, have the same bank account as, and prestige as Enrique Iglesias, but you should spend some time creating a good sense of humor towards your life, be kind, be intelligent, and be a good listener. These qualities don't sound like panty peelers, but they are the qualities that make a woman want to be with you for longer than one drunken night.