If a woman is not interested, she won't always come right out and say it. So how are you supposed to tell that she just wants to be left alone?
Not being able to read her signals is one of the top reasons you're still single.
Here are some of the most obvious nonverbal cues that a woman will send out when she's not interested in you.
1. Her body is turned away from you and she's closed off
The best way to tell that a woman isn't feeling your encounter is to pay attention to how she is carrying herself. Is she closed off? Are her arms crossed? Is she kind of hunched over making herself small?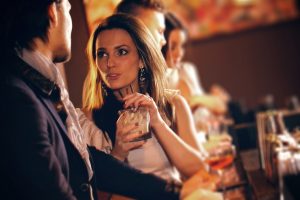 These are all indications that a woman is feeling uncomfortable and perhaps not really interested in you. Maybe you've done something to turn her off, or maybe she has a boyfriend. When we like people, or when we're even open to talking to people, our bodies reflect this mindset by physically opening up. And conversely, if our bodies are closed off that means that we're not feeling the conversation and/or interaction.
Think about how you carry yourself when you like someone or what your body does when you're enjoying yourself. Body language isn't super gendered, so think about what you would do when you're feeling uncomfortable and not interested in an interaction. And apply that when you're trying to decipher if a girl is interested in the conversation or not.
2. Eye contact is limited
The second thing to take note of is if a woman is maintaining eye contact. This is one of the easiest ways to tell if a woman is interested in you and the encounter because when we like someone, we want to look at them. And conversely, if we're trying to swerve on out of the conversation, then eye contact will be limited and she will be looking everywhere but your face. That is a universal sign that she's not interested and she doesn't want to engage with you.
I had this happen to me last night. I was out for dinner with a girlfriend and we were at a restaurant seated at the community table. These two gentlemen sitting across from us were being particularly pushy. Granted, we were sitting at the community table so conversation with strangers is a given, but not a requirement.
These two men kept offering us shots, which we graciously declined, and then they asked us to go out and party with them after, and we, again, graciously declined because we had to work in the morning.
They were being so unbelievably pushy! Not really taking no for an answer. I stopped responding to them and stopped making eye contact, and had my body turned away from them and was directly facing my friend hoping that these men would catch my drift that we were not interested in drinking with them and or going out with them later.
They were not catching our drift. And we got up and changed tables because they would not take a beat.
Take this story as a lesson to realize that when women want to talk to you, they make an effort to by responding to you, looking at you, and facing you.
3. Her feet are pointed away from you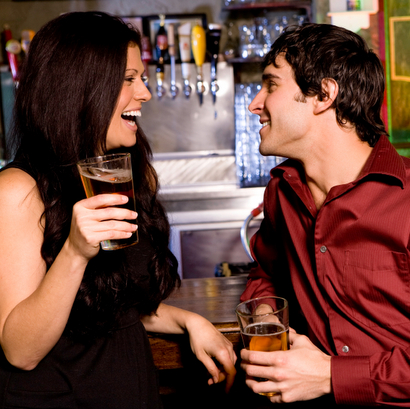 When our feet are pointed away from someone with whom we're speaking, that means we're preparing to leave the conversation.
Actually, if a woman's feet are pointed away from you, that means that she has already, mentally, begun to leave the conversation and that her body will follow suit shortly. She's setting herself up to get out of your interaction. She's not interested.
This isn't a 100% surefire rule, but it definitely does apply much of the time.
On the flip side, if she's got her feet pointed in her direction, she could be into you.
4. She's leaning away from you
The final, most obvious way to tell that a woman isn't interested in you is her proximity to you and if she is leaning away from you. When we like someone, we want to be near them. And we will make any excuse that we can to get next to them.
If you notice that the girl with whom you're speaking starts to pull away, and lean out from your conversation then she is disengaging from the interaction.
She's, non-verbally, saying that she needs space. It's quite simple, when women want to continue a conversation or continue to get to know someone, their bodies make it pretty obvious because they want to be next to that person.
These are what I would consider to be the top four signs to take note of if you see when you're interacting with a woman that you're trying to hit on. When women lean in, make and maintain eye contact, open up their bodies and face you straight on are all signals that she's interested in your interaction, however, if she does the opposite of these gestures, then chances are she is not interested in you and you should give her some space.
So, if she refrains from making eye contact, pulls away from you, closes off her body by crossing her arms, and or is facing away from you these are all subliminal signals that a woman isn't interested.
That's all I have for you guys today, thanks for reading… if you're still looking for more, read this related article on how to tell if she is into you, and be sure to check out this new blog post from Marni (aka the 'Wing Girl') as well.